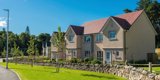 James Gibb residential factors manage a property portfolio of over 50,000 residential and commercial properties and retirement homes throughout mainland Scotland, including Central, East and West of the country together with Dundee, Angus, Perthshire, North and East Fife and the North of Scotland spanning Aberdeen, Inverness and surrounding areas.
Since 1872 James Gibb have been providing exemplary property management and factoring services to homeowners and homebuilders. In so doing, we consistently meet the standards of practice demanded by the Property Factors (Scotland) Act 2011 – Code of Conduct. 
James Gibb provides 24 hours emergency cover and following discussion with homeowners will arrange to operate ten-year maintenance programmes.
Additional property management and factoring services include:
Buildings and Public Liability Insurance
Building Surveys and Insurance Valuations
Fire Equipment and Lift Maintenance Programmes
Internal & External Redecoration Programmes
Our written statement of services document will confirm the requirements for this work out with core services.
Dedicated development management
James Gibb provides each development with a dedicated team led by a Development Manager who visits the development on a regular basis to review appointed contractors' standards and highlight any remedial works required.
The Development Manager is responsible for contract tendering, arranging annual risk assessments to ensure safety within each development and working with homeowners in the preparation and management of long-term maintenance programmes to pro-actively sustain property values.
Maintenance and repairs programmes
As well as facilitating general property repairs, James Gibb will assist in managing various maintenance programmes to ensure continued operational performance and compliance with Health and Safety regulations.
Maintenance programmes can include:
Gymnasiums
Water Tanks and Water Pumps
Lightning Protector Systems
Roof Line & Anchor Systems
Roof Safety Systems
Car Park Access Doors
Barriers and Ventilation Systems
Grounds maintenance programmes
Grounds maintenance programmes are an integral part of the James Gibb service offering and we work tirelessly to deliver expert, contracted maintenance programmes across many different aspects of the development.
Planned maintenance programmes are regularly designed around such areas as:
Play and woodland areas
Drains and sewage systems
Private roadways
Lighting systems
Internal and external cleaning services
At James Gibb we fully understand that first impressions are important and we provide a variety of internal and external cleaning services for such areas as stairs, windows and gutters.
Emergency and out of hours service
A 24 hour, 365 days a year emergency service is available for properties for which we provide the buildings insurance.
Each emergency call is handled by property professionals who have a portfolio of approved contractors with the ability to deal with all types of emergencies.
This customer service facility greatly improves customer satisfaction ratings.
Concierge and security services
James Gibb provides Concierge and Security services including CCTV, Door Entry Access Systems and Gate and Shutter maintenance.
Additional property management and factoring information is available at Homebuilder and Homeowner services. Alternatively, check out our Homebuilder FAQs and Homeowners FAQs
James Gibb doing it the right way