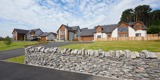 When building a development and selling properties, we know that homebuilders go above and beyond to ensure that their products and specification are provided at the highest possible standard and ensuring the development is made as attractive as possible for the homeowners.  As managing agents, we believe it is our key role to maintain the original design and construction which is handed over to us.
Over time, we expect common parts to wear and it is inevitable that homeowners will be required to undertake large scale maintenance programmes, such as external redecoration painting works, internal redecoration works, etc. to ensure the original design and build is restored to its original conditions, which ultimately sustains the property values and protects homeowner investment.
Commencement of Maintenance Programme
Building Maintenance Programmes from the point of handover sets the expectation of when to consider proactive works, which may be required within years 3-10, post construction.
We publish our completed programme to homeowners so that they are kept informed of when any potential large-scale works are being considered, which prepares them for any potential charges that fall outwith the core service charges. 
A copy of our proposed maintenance programme is usually taken to AGM's and/or or residents' meetings. This transparency encourages open dialogue on potential works and allows consideration of quotations from suitable suppliers. Importantly this ensures that proposals are fully discussed with homeowners in advance of any formal decisions being made.
Maintenance/sinking funds
At James Gibb, we include maintenance/sinking funds within estimated service charge budgets from tender stages as this ultimately prepares homeowners for future maintenance works. 
A maintenance/sinking fund builds a contingency from completion of the development, whereby funds can be saved and utilised by homeowners as and when large scale works are deemed to be required.   
In our experience, consistently building tangible funds helps cover the cost of these potential works, or at least allows for a good proportion of the cost to be offset and avoids larger one-off costs.
James Gibb doing it the right way