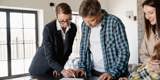 James Gibb is a unique people-centric organisation, built on core customer care values that cultivate an ethos of transparency and trust across all aspects of our service delivery.
Prior to concluding the purchase of your new property, you will have been provided with all relevant information relating to your responsibilities for the common areas within your development by the seller of the property via their solicitor, or in the case of a new build property, from the developer's solicitor.
The appointed solicitor should also have made you aware that a property factoring firm is in place and what your associated responsibilities and liabilities are. This information is generally detailed in the Deed of Conditions, and it may be helpful to obtain a copy of this from your solicitor.
As a new customer of James Gibb, we will provide you with information specific to your property in accordance with the Title Deeds or Deed of Conditions. This information includes such items as:
A statement on James Gibb's authority to act on behalf of co-proprietors
Share allocations for common area expenditure
Insurance particulars where appropriate
Information on core management services being provided to you by James Gibb
There may be some terminology contained within these documents that is unfamiliar to new clients and to help with this you can access information in our Customer Guides or check out our Homeowner FAQs section. 
At James Gibb we actively promote honest, transparent and accountable property factoring and always keep our customers informed.
James Gibb doing it the right way