Out of Hours Control Centre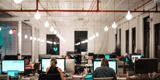 Nationwide Out of Hours Control Centre
Providing an emergency out of hours call out service is critical for property developers offering maintenance and repair services to customers throughout their warranty periods. Customer satisfaction levels immeasurably improve when customers are given immediate access to help and information 24 hours, 365 days a year.
The multi-channel emergency out of hours control centre is managed by property professionals. The centre provides emergency help desk services alongside customer care programmes and delivers unparalleled communication solutions that facilitate and augment homebuilders' existing customer care models.
The functionality of the control centre enables homebuilders to customise their provision of customer support via dedicated contact numbers, call scripting and definitive treatment plans to guarantee emergency calls are routed immediately to the appropriate engineer, maintenance team or property specialist.
Existing clients maintain that utilising the emergency and out of hours control centre has enabled them to:
Fulfil their contractual obligation on Warranty Cover provision
Improve their 'out of hours' emergency response provision
Deliver effective 'out of hours' repair and maintenance
Create an effective customer communication solution
Reduce customer call/action waiting times
Improve customer service delivery
Improve overall customer satisfaction ratings
Emergency repair and maintenance issues are resolved 24 hours a day, 365 days a year.
James Gibb doing it the right way