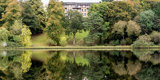 At James Gibb, customer care is at the heart of everything we do. We demonstrate this ethos by always listening to the needs of our customers, giving advice and assistance when required, trouble-shooting any issues they may have and overall, guaranteeing an excellent customer experience.
Following the award of the property management and factoring contract, we provide the homebuilder sales team with our 'Factoring Sales Pack' which contains detail on the estimated service charge budget and information on the levels of service homeowners can expect to receive from James Gibb as their property manager.
Keeping homeowners informed
On a large-scale phased development, James Gibb holds regular meetings with homeowners throughout the phased handover, keeping them informed of services and any defect management.  It is important to us that homeowners have an understanding of the factoring service and maintenance obligations as soon as possible following handover.    During these meetings we also hold Question & Answer sessions to ensure that homeowners have the opportunity to gain a full understanding of the service provisions.   
Annual General Meetings
On completion of a development, we arrange an Annual General Meeting (AGM) of all owners and encourage the formation of an owners' association or representative committee. Where insufficient numbers are available to form a committee, a steering group can be formed. The calling of the initial AGM is carried out in accordance with the development Deed of Conditions and/or Development Management Scheme (DMS).
Homeowner involvement at all times
Forming an association or representative body, provides owners with the opportunity to regularly come together to discuss, contribute and decide on matters relating to the maintenance and management of their development. Working together with the representative body, we can engender good working relationships and provide support and direction on property management and maintenance issues.  
Outwith AGM's, interim owners' meetings can be arranged. Also, individual homeowner meetings can be scheduled with the dedicated Development Manager.
James Gibb actively promotes honest, transparent and accountable property management and factoring and always keep our customers fully informed.
James Gibb doing it the right way