Our story
A proven track record of customer service over 150 years
In 1872, John Gibb launched a business to provide a home letting service, as well as joinery and funeral services, within Edinburgh.
Originally based in West Nicholson Street, the Company changed its name to James Gibb in 1892 and moved to the current location of our Edinburgh Office in Atholl Place in 1963.
Over the years, the joinery and funeral services were eventually phased out to allow the firm to focus on property management – initially limited to the lettings market and later expanded to include factoring services.
The business remained in the Gibb family until the retirement of the 5th generation Gibb Brothers in 2012, when the factoring division was acquired by Strathspey Capital Limited. Since then, we have grown the factoring business both organically and by acquisition and now have offices in key locations throughout the country – Edinburgh, Glasgow, Aberdeen and Dundee.
As one of the oldest and most highly respected property management and factoring firms in the country, we actively promote the provision of high standards and operational best practice to all stakeholders and throughout the wider property management and factoring industry.
At the forefront of our industry, we are considered dynamic in our approach to all aspects of property management and factoring. We work together with homeowners and homebuilders to provide a modern and transparent property management and factoring service with customer satisfaction and customer care, front and centre of that provision.  
Having pushed the boundaries of traditional factoring, effectively changing the mindset within our industry, our business growth has been extraordinary. We continue to invest and adopt new technologies, to create operational efficiencies and improve our customer experience.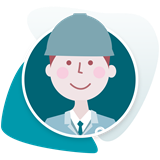 Doing it the right way
In 'doing it the right way' we consistently deliver a factoring service, underpinned by our core values of listening and learning, transparency and honesty, in all interactions with homeowners, homebuilders, suppliers and colleagues. These values, together with the strength and capability of the James Gibb team, are demonstrated through the passion for the work that we do, every single day.
At James Gibb, our people are our greatest asset. We believe it to be vital in our increasingly complex and demanding business sector, that we continue to have highly skilled professionals on our team. We invest in skills training and continuous professional development to ensure we stay at the forefront of driving change in the industry.
James Gibb has membership of and has representation on the Board of the Property Managers Association Scotland (PMAS), the leading association representing professional property management and factoring firms in Scotland.
You came here to present the case to Fairview Court. Subsequently, James Gibb Residential Factors, became our Factors.That was a good move, for since then we have really appreciated the level of service you have provided, the personal attention to our concerns, the open communication, and the diligent way that matters are being pursued, despite the adverse effect of the lockdown restrictions.Clare and Tommy have been excellent in attending to our needs and relating well to all of us here. So, thank you to you and your team.
Delighted with Aline's prompt, efficient and courteous response to some historical issues since she became our new local Manager, inspiring confidence in future dealings between our development Association and Aline going forward in this professional manner.
I have owned my own property in Strathmore Court since 2007. In 2011 we chose to employ lpm, now known as James Gibb residential factors, as our factor. This has proved to be a very satisfactory arrangement for our retirement development. We have a monthly Estates Manager inspection, annual budget meeting and annual accounts meeting. We deal with a Scottish finance department which understands our geographical location. There are no additional administrative fees and we have made savings in a number of services. Our House Manager has been released from many of her administrative tasks to allow for other duties. The staff are approachable. Lorraine Stead has been particularly helpful to me.
I can't praise Clare Bugden highly enough !! Clare is a complete breath of fresh air to deal with and goes above and beyond to help in any way that she can. Any repairs or issues within the Netherblane development are swiftly dealt with and Clare always keeps you updated with the progress. It was very comforting to know someone of that Calibre is looking after your development!! A true asset to James Gibb.