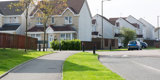 Years of experience
With years of experience, working in partnership with homebuilders of all sizes, from the initial planning stage to completion; handover and management of each phase, we guarantee to be cost competitive and deliver an unrivalled level of service.
We also work pro-actively with homeowners and committees to ensure that each development's needs are met when it comes to repairs, maintenance and inspection plans, improvement schemes and painting projects – all of which are fundamental to the long-term fabric, appearance and value of a building or site.
Customer service
At James Gibb, property factoring is not just about looking after the building. It is a people business and we are hugely proud of the professional relationships that we have fostered over the years with our customers and the level of trust they place in us.
At James Gibb we are committed to ensuring that the principle of treating customers fairly is applied responsibly and with integrity throughout all aspects of our business. This means that everyone in our company upholds a commitment to offering the highest levels of customer service.
Dedicated Development Managers
Each of our Development Managers spends time acquiring a thorough knowledge of a development and how to work with homeowners. It is important to us to know what the needs of the building are, and which residents need additional support.
For this reason, we ensure that we appoint a dedicated Development Manager to provide that support. We always ensure that our Development Managers are supported by others so that homeowners know there is always someone available to help.
To further improve our relationship with our customers and their communities, we ask to be invited to all regular Committee Meetings and Annual General Meetings. As part of our service offering, we extend support to these meetings – help with agendas and minutes.
In-house skills and expertise
We have the in-house skills and expertise necessary to ensure all new build developments can come to market safe in the knowledge that new purchasers will be able to enjoy their new home and that their new environment will be managed to the highest standards.
Free consultancy
We are also able to offer free consultancy services to help shape your Deed of Conditions to each new development, blending practicality with a good, clear, common sense approach.
Seamless service
We provide a seamless service for your purchasers, from handover through to site completion. Throughout the process, communication and sound advice results in a smoother transition for all.
By entrusting the property management and factoring requirements of your developments to James Gibb, you can be sure that our work will be carried out to the highest standards, sustaining and improving property values for the future. 
Transparent costs
At James Gibb, we actively promote honest, transparent and accountable property management and factoring and always work to keep residential and commercial customers fully informed.
In all cases, from routine maintenance to major projects, the price you pay is the price we pay. We do not take any premium, mark up or commission from any of our contractors.
This gives absolute clarity of prices and ensures we constantly work to ensure that you are getting the best value for money for the level and standard of work you have requested.
Competent and trusted contractors
Repairs will be carried out by one of our approved contractors with whom we have agreed standard rates.
Where possible, we will use local contractors, all of whom are trusted, competent, insured and approved by us in advance. The relationship we have with these contractors is such that we have negotiated competitive rates that we are able to pass to our customers.
For major project work, we will obtain three quotations on your behalf and discuss the options with residents' committees before work is commissioned.
Clarity of the invoicing process
Our invoices are fully transparent, detailing the costs incurred during the period. Each individual cost is itemised along with the amount that has been apportioned to the individual homeowner. This ensures absolute clarity of the invoicing process.
The management fee for our services is set at a level agreed at the time of securing the contract to manage a development. Management fees will be reviewed annually after an agreed period.
No charge is made for attending regular residents' meetings or Annual General Meetings.
Compliance
In 2012, the Property Factors (Scotland) Act came into force and ensured all operating factors are competent and follow certain requirements.
These regulations are designed to protect the customer against unscrupulous actions and are welcomed throughout those of us in the industry who uphold the highest standards of operational compliance.
We also have responsibility as a business for ensuring the organisation complies with its outside regulatory requirements and internal policies, developing compliance programmes, reviewing company policies and advising on possible risk.
Experienced support
Our team ensures that all non-operational aspects of our business are managed in a fair, efficient and professional manner. From receipt of payments, to issuing parking permits, income recovery and ensuring our contractors are paid on time, the team is committed to ensuring the smooth running of our business.
James Gibb doing it the right way