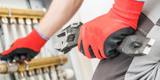 James Gibb identified the need to deliver excellence in both service delivery and customer care across all aspects of property management and factoring. In the provision of property repair and maintenance services, we provide the residential and commercial property sector with a customer focused service, fully equipped to satisfy all requirements and the day to day demands of our customers.
We fully understand the importance of protecting and maintaining property investments to the highest standards, to avoid potential serious financial implications and achieve full market value. The provision of an expert property repair and maintenance service across the developments that we manage, is essential to achieving this long-term return.
Our 24 hours, 365 days property maintenance and repair service, covers locations throughout mainland Scotland, including Central, East and West of the country together with Dundee, Angus, Perthshire, North and East Fife and the North of Scotland spanning Aberdeen, Inverness and surrounding areas.
Our 'out of hours' emergency control centre handles emergency call outs and facilitates emergency repair and maintenance services.
Development maintenance
Across the developments that we serve, it is our responsibility to manage and maintain all the associated common elements and features. More information on what this typically includes can be found in our helpful and downloadable, customer support guides 
In order to properly manage all common areas, our development managers visit each development on an agreed regular cycle. We do, of course, appreciate our owners advising us of any repairs that are required between visits and provide an online digital contact form, for this purpose. You can request a repair online, easily, quickly and efficiently at any time.
Major repairs and maintenance projects
As well as on-going routine requirements, we manage major projects from the identification of needs to arranging quotes, in-gathering funds, monitoring progress, signing off on completion of works etc. Also, we have access to a team of quantity surveyors who can assist in assessing matters.
We encourage our various Residents' Associations to work together with us to produce long term preventative maintenance plans etc.
James Gibb doing it the right way